Show Menu
Upcoming Events
Professional Learning
A CENTRE OF EXCELLENCE FOR PROFESSIONAL DEVELOPMENT
Principles
We believe that our staff team is the most significant resource in ensuring success for our students. All professional development undertaken by staff within the school is to support student achievement and well-being. All staff are responsible for modelling a love of learning and the continued pleasure of finding new challenges.
Professional development fully embraces the school's strategic intentions. However, two are of particular importance to professional development at Parliament Hill School:
Everyone enjoys learning and is creative – trying new things, finding solutions, embracing their responsibilities and;
The school will be regarded as outstanding by our community through its outreach work.
Professional development at Parliament Hill School remains not only responsive to student and staff need but it will continually evolve, innovate and be dynamic.
Parliament Hill School is an outward looking school, seeking opportunities to work in partnership with other schools, Universities and professionals in order to enhance the learning of its staff and, therefore, accelerate students' achievement.
NQTs: Growing Great Camden Teachers 2019-20|PDF
Camden Learning
Camden Learning Hub prospectus|PDF
Camden Learning CPD brochure|PDF
Leadership Programme
Support Staff
Coaching Skills for Support Staff Leaders
Classroom Expertise
Students with High Learning Potential
Excellent practice for Higher Potential Learners
CP HLP LDD Programme & Overview Programme

Initial Teacher

Training at Parliament Hill School

Parliament Hill School believes that working in partnership with Universities to develop the next generation of excellent teachers will benefit students, teachers and the whole school community. Working with trainees provides opportunities for:
Experienced teachers to reflect on their practice, model high quality learning in their classrooms and work in partnership with the trainees to develop and refine aspects of their own practice;
A second adult in the classroom who can focus on raising achievement of groups of students;
Research into key areas of the School Development Plan, carried out by the trainees and reported to the Senior Leadership Team;
Access to the latest research into high quality teaching and methodology;
Access to University teaching materials;
PHS to build links with Universities, providing professional development for existing staff and drawing on expertise such as research skills;
Collaboration with LaSWAP to run a high quality professional studies programme for trainees, drawing on best practice in each school.
PHS offers the following Initial Teacher Training programmes:
Teach First
PHS is a partner school for Teach First, attracting high performing graduates into teaching and benefitting from the many opportunities Teach First provides for students. Many of our Teach First trainees go on to become excellent Team Leaders at the school. We are one of only a handful of high performing schools nationally who are able to host Teach First trainees, made possible through Teach First campaigning to have a very small number of excellent schools working with them.
PGCE (Post graduate Certificate of Education) –
PHS works in partnership with the Institute of Education, London Metropolitan, Middlesex, Goldsmiths the Central school of Speech and Drama. Evaluations of the programme over the past 3 years, by the trainees and by the Universities, indicate that the experience is consistently rated as "excellent".
Leadership Programmes open to partner schools:
PHS runs a number of acclaimed leadership programmes across Camden and North London schools, ensuring leaders have the skills, knowledge and expertise to lead learning expertly. In 2018-19, the following programmes are on offer –
Thinking of Leadership? This programme is aimed at teachers in all phases considering their first leadership post. Click here for a programme outline
21st Century Leaders. This is aimed at teachers in all phases and non-teaching Heads of Year who are fairly new to middle leadership Click here for a programme outline
NPQSL. A nationally recognised, accredited programme aimed at Senior Leaders (Assistant and Deputy Headteachers) and those likely to apply for a senior leadership post in the next 2 years. Click here for a programme outline
Researchers in Schools – PHS has been involved in this relatively new programme, training post-doctoral researchers to become teachers. This has enormous benefits for the school, building best practice in research and providing excellent role models for students.
Testimonials:
'Being an NQT in Camden has been fantastic. I have loved the workshops – they have all, without exception, been really helpful and relevant. I know I've had so much more support and development than my friends in other boroughs' Camden NQT
'Just wanted to let you know that I used your creative thinking ideas with film stills today and it was my most successful lesson since joining PHS School AND with my most challenging class – they loved it! The questioning session was very much appreciated' Camden NQT
'The Inspiring Pedagogy Hub was excellent. The practical ideas and resources made it all really easy to apply in the classroom and it was well-structured and pacey.' Camden teachers
'The leadership programme provided a great place to talk without being judged, and to reflect. It was pacey and engaging as it was so interactive with an excellent range of tasks' Camden leaders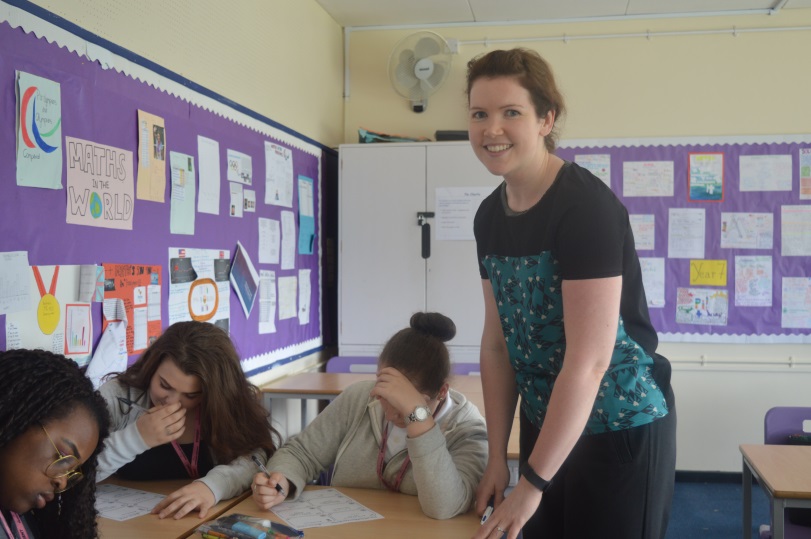 For further information about ITE at PHS, please contact Joy Morgan at joymorgan@parliamenthill.camden.sch.uk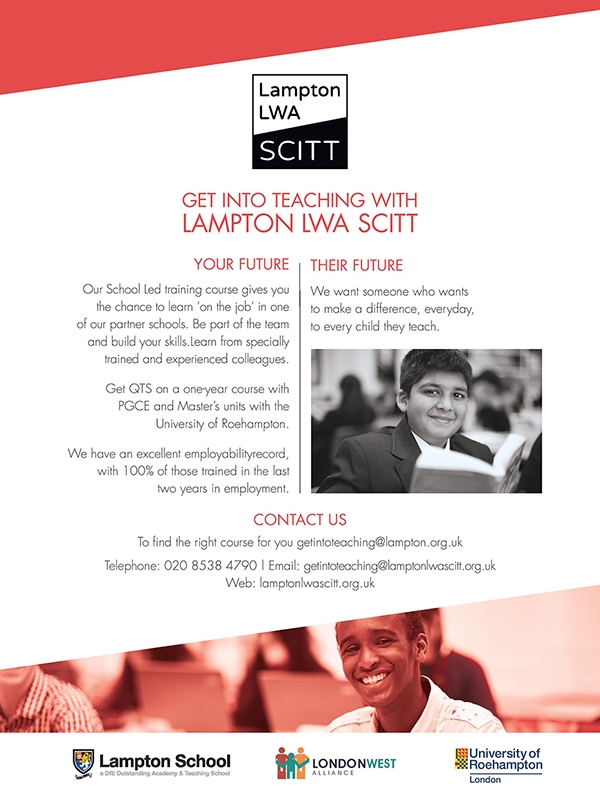 Facebook is a great tool to help us all when it comes to Get Into Teaching events, and a great way for you all to stay in touch with each other. It is also a great referral place if you are recommending the SCITT to anyone, or if you wanted to let a friend know about an event we may be running.
The link to the page is here – https://www.facebook.com/teachlampton/
Link for Lampton LWA SCITT Website -http://www.lamptonlwascitt.org.uk/